Service and Fundraising
Service and Fundraising.
Fundraising and Service.
We can't have one without the other.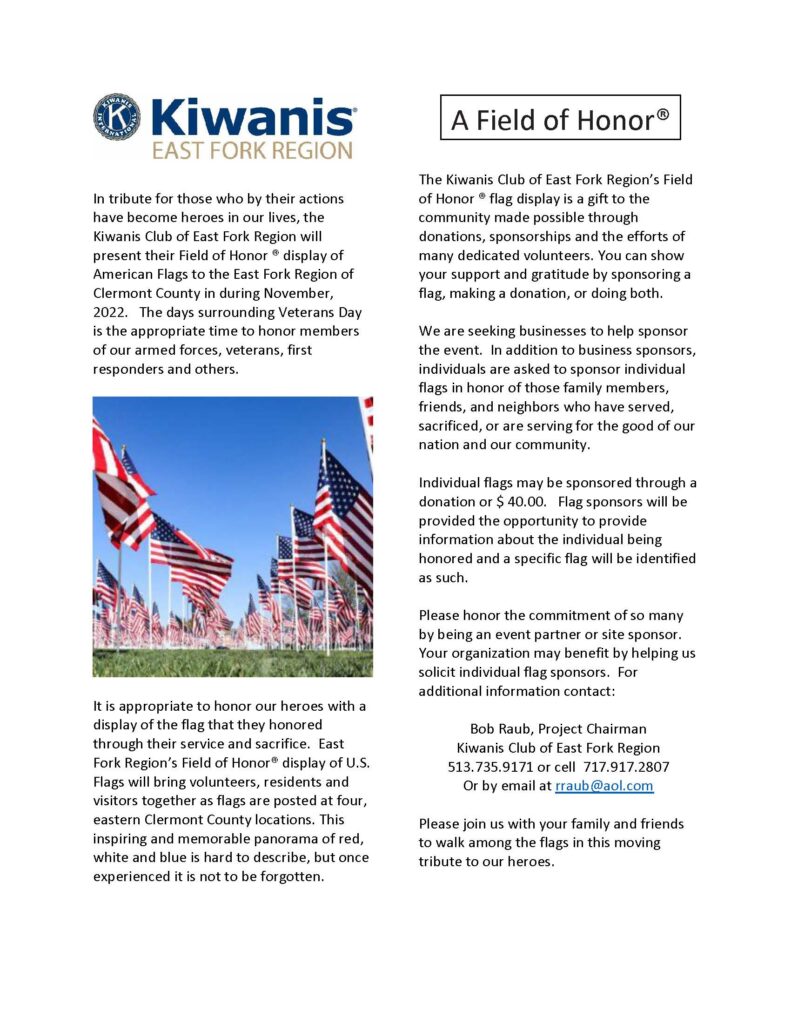 2022 Fields of Honor
Our Kiwanis Club is again offering our community the opportunity to share in our Fields of Honor for the month of November, by dedicating a flag(s) in honor or in memory of a Veteran, a First Responder, or any Public Safety Officer.
These flags will be installed in 4 Clermont County Communities: Amelia, Batavia, Bethel and Williamsburg with an opening ceremony on November 5th (the exact schedule will be posted at a later date).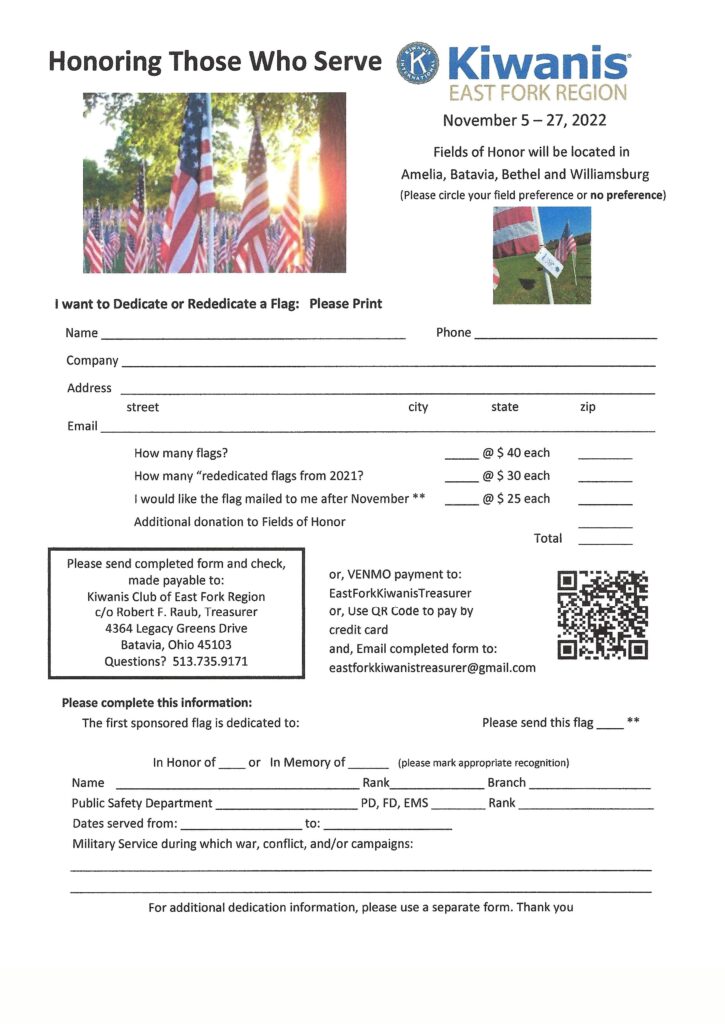 ---
Kiwanis Service
Service is at the heart of every Kiwanis club, no matter where in the world it's located. Members stage approximately 150,000 service projects and raise nearly US$100 million every year for communities, families and projects. By working together, members achieve what one person cannot accomplish alone.
Our Kiwanis club focuses on changing the world by serving children, one child in our community at a time. To reach more people and have a greater service impact on their communities, many clubs sponsor a Kiwanis family club — K-Kids for primary school children; Builders Clubs for adolescents; Key Clubs for teens; Circle-K clubs for university students and AKTION Clubs for adults living with disabilities. Our Kiwanis Club has chartered a Key Club in Williamsburg High School in April of 2020; and we have chartered an AKTION Club in conjunction with Clermont County Developmental Disabilities Organization in Batavia.
---
SHOES! SHOES! SHOES! This project was a huge success and is currently being consider to be held again in 2024.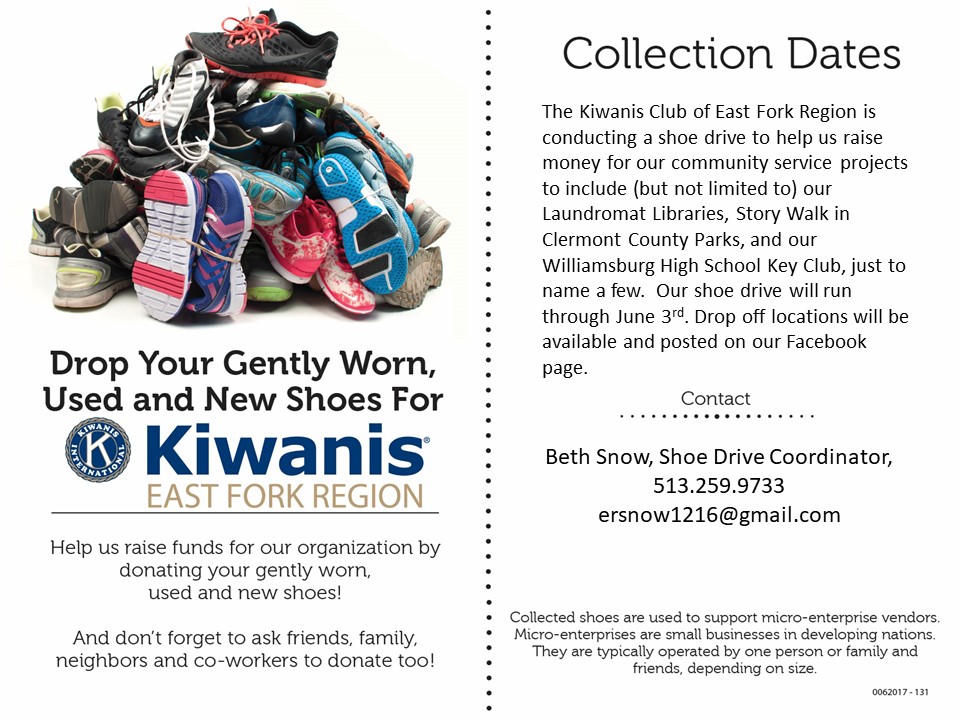 Fields of Honor
Our club is embarking on a new project here in Clermont County, OH. We are working to bring four Fields of Honor to a neighborhood near you from November 6-28, 2021. Individuals can honor a past or present service member or first responder by sponsoring a flag in their name. These full sized flags will wave proudly with your dedication information tagged below each flag. You do not need to live in the area to pay tribute.
We are also accepting Corporate and/or Site Sponsors for those who are interested. These sponsorships are filling up fast and we have a limited number of them available, so please contact us ASAP if you are interested.
To sponsor a flag, please follow the instructions on the form below. Checks and inquiries can be sent to Bob Raub (information also on the flyer).
Thank you for your continued support of our service members and first responders! We'll be back for 2022.
Recent Service Projects
HERO Bags
Since Chartering our Club in 2019, we have completed a number of service projects. COVID-19 put a damper of many of our plans, but it also gave us the opportunity to create HERO Bags for front line healthcare workers and first responders. We were able to deliver over 300 bags to heroes in our community!
Batavia Bulldogs 5K
Our 2020-2021 Club President, Kristine West-Kahl and her family participated in the Batavia Bulldog 5K. We were happy to be there with water and snacks for her, her family, and all of the other runners and walkers.
FUNDRAISING MADE FUN
Who-Dey?!
Congratulations to our winner – Chris Bateman
Take a chance on our fundraiser:
2 tickets to Bengals vs 49ers, Game day 12 12.21 at 1:00 pm (ticket value is $300.00). Seats are in section 110, row 5, seats 3 & 4
Raffle tickets are $10.00 each or 3 for $20.00.
Drawing, live on Facebook on 11.29.21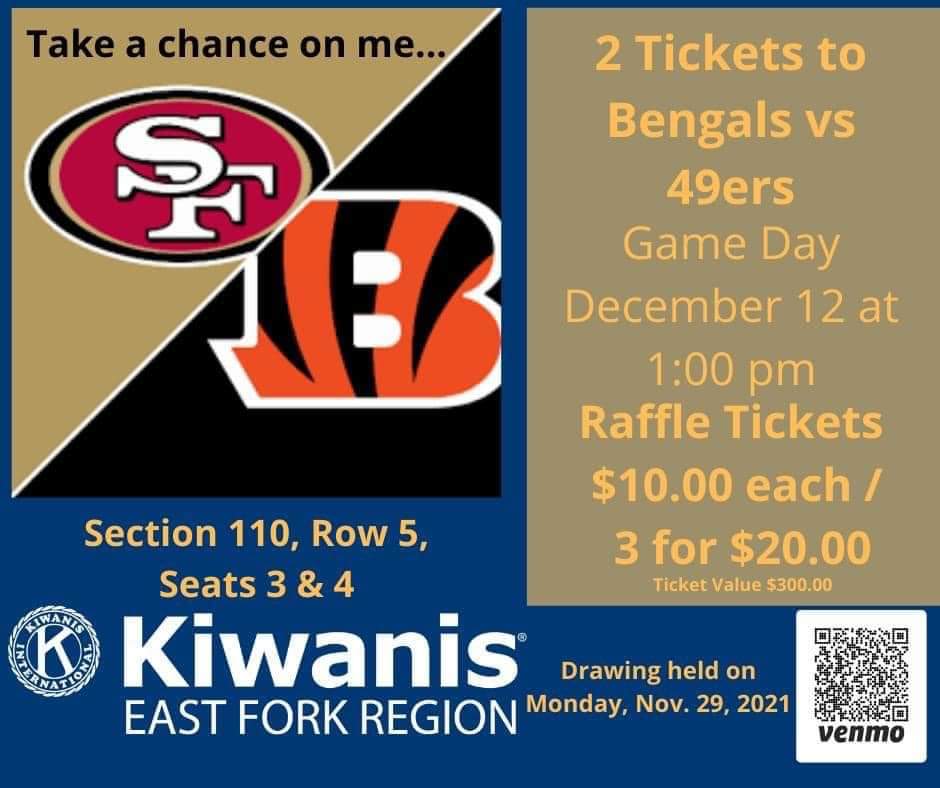 🔷️ 🔷️ 🔷️ 🔷️ 🔷️ 🔷️ 🔷️ 🔷️ 🔷️ 🔷️
Shoe Fundraiser
You may have seen our flyers for used shoes or posts on Facebook. We turned in 105 bags of shoes (filled with 25 pair each). These shoes were turned into cash that we will use to serve our community this year.
Thank you to everyone who donated and helped make this fundraiser a success!
Join Us
Are you ready to help create communities that let all children thrive, prosper and grow? It's pretty easy to do! Simply contact us with your questions and apply for Kiwanis club membership by filling out the application found here and send to us via this link.
President, Dave Snow 513.259.9736
President Elect, C. Scott Runck 513.519.8126
Immediate Past President, Ryshel Bowling 513.309.8437
Treasurer, Bob Raub 717.917.2807
Secretary, Judy Raub 717.917.2741
The kids in your community and the world are counting on you!